Search Engine Optimization (SEO)
What is SEO?
Search Engine Optimization (SEO) is a technique used to increase website visitor by considering page rank system rating spot in search engine websites like Google, Bing and Yahoo etc.
How to do SEO?
Use unique content and relevant title with proper use of Meta tag description on every page to ensure more reach. You can add Meta tag to improve SEO ranking.
How to increase visitor base?
Try sharing your blog on various social media sites such as Facebook, Twitter, Linkedin, Google+, Pintrest, Buffer, Reddit, Yummly, Vk etc.
Any tool to improvise SEO?
For better understanding visitors preference and demographic reach use – Google Analytics and it is best tool for SEO analytics.
If you're using WordPress self hosted website / blog then try considering following plug-in to make your blog more reachable and increase page rank system.
Yoast SEO Plug–in is one of most trusted SEO tool for wordpress user and it has many features such as.
Readability score
SEO score
Meta tag description
Focus Keywords etc.
How to install Yoast SEO Plug-in (formerly known as WordPress SEO)for WordPress site?
First, Login to your WordPress blog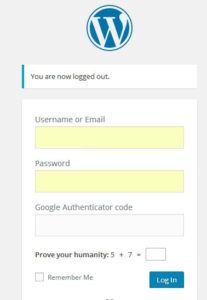 Second, click on Plug-in and "Add New" type "Yoast SEO" in search box as following.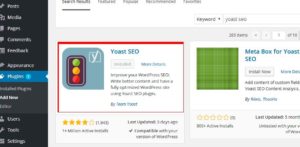 Third, install and click on activate the plug-in.
After installing the Yoast SEO plug-in it will look as following image.

Now installation is over, now create any post and observe below.
Below the post there are two options 1) Readability 2) Keyword: business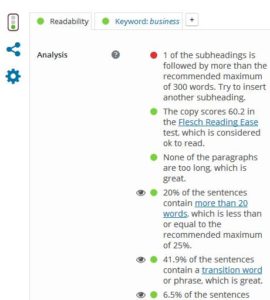 Now enter unique focus word.

Try to maintain green colored bullets both on Readability and keyword tabs to ensure 100% optimized.
Note: very important points.
a) Red

bullet means  less seo score


b) Orange

bullet means "OK" seo score


c) Green

bullet means "Good" SEO Score!
Hope it helps you all!